Expert Interview Series: Jonathan Gur Zeev of LookAt on The Usefulness Of File Sharing And Remote Collaboration
by Shirish Phatak on September 11, 2016
Jonathan Gur-Zeev is Co-Founder and CEO at LookAt
LookAt.io works frequently with the film industry, where collaboration is both hugely important and time consuming. How much has file sharing helped your clients speeding up their workflow, and in what ways?
File sharing and reviewing processes has had a very big influence on our clients' workflows and speed of work. If a regular production workflow is based on constant back-and-forth emails and phone calls, trying to synchronize everybody's comments and revision requests on a video, then in LookAt all the review and feedback process happen in one organized place.
Everyone can give feedback directly on the same version of the video, give feedback directly on the footage itself, approve revision and so on. When everything happens in one place, and when commenting is so simple - it saves a great deal of time to all the parties involved. Some of our clients have reported a saving of up to 25% in their post-production projects' duration.
Another one of the major benefits of file sharing and cloud computing is having all of your info in one place. What are some of the major benefits of having all of your work projects in one place at one time?
All projects, but mostly large projects, tend to be very complicated and comprise many files, versions and formats. Having all the materials organized in one location rather than in 3 or 4 different storage spaces makes it much easier to navigate through them, find the files that you need and ensures that you don't waste time looking for things rather than actually working on them.
More so, many projects are follow up projects, meaning they are based on existing materials, footage etc. Having all your project's assets stored in one place, you don't have to collect materials from different storages after the projects ended or start from scratch by shooting new materials. You can easily find everything you need in one place.
Some businesses have criticized working remotely as being inefficient, mostly due to a lag in response time and things getting lost in the shuffle. On the other hand, Forbes Insights surveyed corporate leaders from around the world, regarding cloud-based collaboration. According to Forbes' survey, 87% felt that collaboration improved communication, product, and service. How can effective file sharing help improve communication and efficiency?
Companies working regularly with file sharing and collaboration platforms are definitely characterized by higher efficiency than others. This is true especially if working in remote teams, because the collaboration facilitates constant communication between the employees, making up for distance and time differences, creating a virtual space shared by all, working as a single unit. This high efficiency most definitely reflects itself in better service, products, and revenues accordingly.
93% of those surveyed by Forbes Insights also felt that collaboration helped spur innovation. In which ways have you seen this cloud-computing spur innovation?
Working in a shared space, whether in an actual physical space or a virtual one, will always create multiple opinions and creative discussions, which are the very things that ultimately lead to innovation. Having every team member working as a solitary unit, the ability to challenge creativity and innovation is very low, because people working alone tend to be fixated on the same ideas time and time again.
LookAt, for example, allows users to not only to share files, but also to discuss them in multiple different groups in one shared space. The fact that everyone can comment and express their opinion leads to a naturally creative dialogue that ultimately will lead to a better product/campaign, if only because it was created in collaboration between several individuals. There used to be a time when people were able to gather around all in one room and discuss things face-to-face. In today's global world, platforms that allow you to do the same but remotely, optimize your collaboration abilities more than ever before.
Bruce Roger, the chief insight officer of Forbes Insights, said, "The ability to collaborate in the cloud is becoming a key driver of competitive advantage." How does file sharing and cloud collaboration make a company more competitive?
When it comes to file sharing and collaboration platforms there is a very simple equation that takes place - Collaboration saves time, saving time saves money, that's it. I don't know a single CEO that will argue that saving money doesn't help him to be more competitive in their market. One should also take into account the advantage of being able to work with branches and clients across the world - a huge advantage in an ever growing international market.
Lastly, communicating with clients through a collaboration platform gives them a better service. To take the film and advertising industry as an example, when sharing files with a client through a collaboration platform, you're saving the client the inconvenience of trying to follow on previous comments, comparing old versions to the new one, etc. This leads to a second equation - A happy client is far more likely to work with you in the future.
Combining these two equations - file sharing and collaboration platform is a winning tool.
Do you have any basic guidelines, as far as proper file organization for file sharing? Why is it important, regardless of the no matter what industry?
File organizing is extremely important, especially when working in large organizations where files, folders and storages are used by a large number of people. Making sure that the right file is found, approved and delivered to the right person is crucial in order to avoid costly mistakes.
These are the basic guidelines to avoid mess, confusions and mistakes which you will later regret:
Always keep unified naming conventions - having everyone naming the files according to certain conventions prevents confusion and chaos. This goes for editing processes as well as for documentation etc ... searching for a file without having the slightest idea what it was called is very time consuming and most of the time doomed to fail.

Projects' structure - Most industries tend to work in projects structure. It's best to define one or two main generic structures that will always be used for all future projects. Turning these structures into templates in advance liberates you from having to start from scratch on every new project, and you will always know where each file goes.

Archiving rather than deleting - in most cases of file sharing, at some point of the project you might think that a file is no longer relevant and can be thrown away, but you should always remember that you're part of a team and someone else might need it now or in the future. Deleting files means losing them forever, so it's always best to archive materials rather them deleting them permanently until the project is completed.

Spring cleaning - permanently deleting files in the middle of a project is a bad idea, but storing tons of old and having lots of non-relevant files laying around is also a problem. Holding on to all your old files is messy on the eye, making it harder to find stuff that you actually do need. For each project/organization, it's best to have one person in charge of wrapping up the project once it's done. This person should decide what should be kept, what not, where and how to store the relevant materials etc.

Tagging - try to tag files as much as possible, especially before you archive them once a project is done. It's a great way to find old materials that can be used in new projects.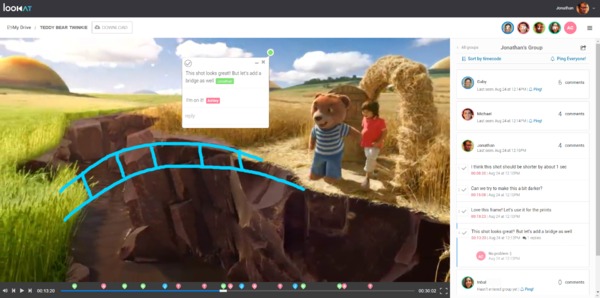 The company Genier published a report finding that the most efficient workplaces facilitate both focus and collaboration. How can file sharing and cloud computing help employees focus AND collaborate?
File sharing on its own isn't enough to ensure both focus and collaboration. When just sharing loads of different files, it might actually prevents focus. In order to achieve both goals you need a platform which allows both sharing and at the same time - context. That's the different between sharing and collaborating and that's what LookAt is all about. Meaning, when just sharing tons of files, the recipient will get lost in chaos. But if each shared file is targeted specifically to the relevant person and with a specific purpose (completing details / choosing one out of few different options/approving a final version) and you have the place to check comments and revisions, than you will achieve both the collaboration and the focus needed to enjoy maximum productivity.
Considering the rise of mobile technology and devices, why will file sharing and the cloud become even more prevalent, as time goes on?
In today's world, companies tend to spread globally as they expand, working more and more with remote teams, working in a faster pace than ever before, always on the go and permanently connected. File sharing is probably the best and easiest way to stay connected and to ensure that everyone is always in-sync. Either if you're working in a small team or with hundreds of people, or if you are sitting in the same office or in five different countries across the globe - when collaborating, you are all sharing one work space, one workflow, always together and always in sync.
Want to learn more benefits of cloud-computing and file sharing? Download the Talon FAST™ solution overview