Talon FAST™ Now in the Microsoft Azure Marketplace
by Jaap van Duijvenbode on April 21, 2016
Yesterday, Talon announced the availability of our FAST™ solution in the Azure Marketplace. We're thrilled about the possibilities and providing centralized file-based data for more branch offices than ever before.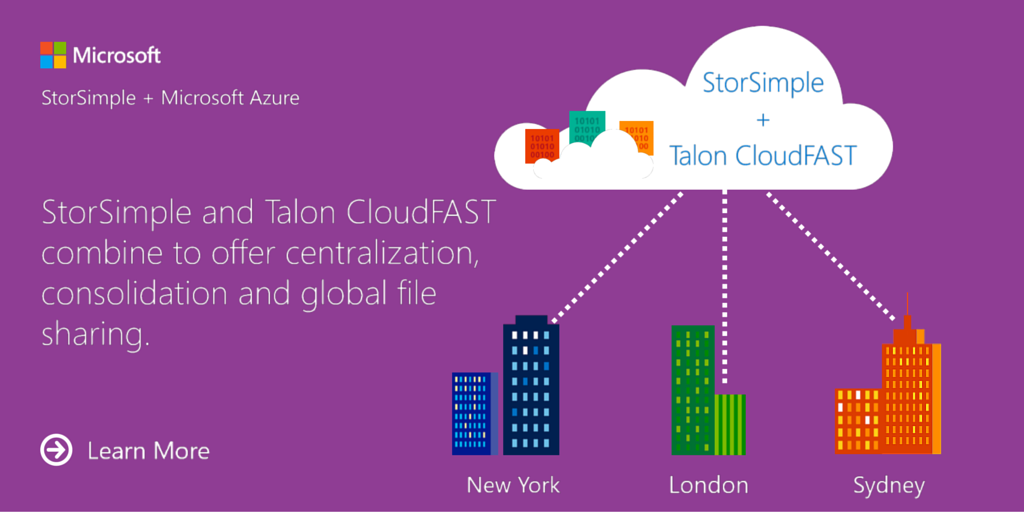 Our FAST™ is now available as a joint offering with Microsoft StorSimple's hybrid cloud storage appliance.  Customers can now buy CloudFAST™ directly from the Azure Marketplace instead of buying CloudFAST™ from Talon and then setting up an Azure account.
FAST™ – and now in conjunction with StorSimple - helps businesses optimize their distributed workforce's efficiency and productivity. CloudFAST™ enables the management of an organization's data at a single location in the Azure Cloud while delivering a high performance file sharing experience to all the branch offices utilizing that data. Truly high performance - no latency, no old revisions, no lost information. Authorized users can work on files without the risk of overwriting other users' work-in-progress. Real-time file sharing, optimized, efficient and cost-effective.
FAST™ for Azure StorSimple is available from the Microsoft Azure Marketplace on a consumption-based 'pay as you go' licensing basis. Microsoft users can select, configure, deploy, and administer both the Talon and Microsoft components seamlessly through their enterprises' Resource Manager.
Read for yourself some of the great coverage of the announcement.